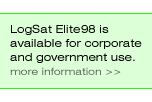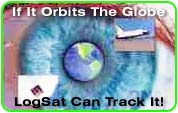 Y2K / XXI century issues still present
Notice - All versions of LogSat Professional prior to v5.2.61 are still not Y2K compliant and will cause problems in 2000/2001. Please click here to obtain more information. A patch (v5.2.61) is available for all versions of LogSat Professional v5.2. Users of previous releases will need to upgrade to the latest version.
Windows ME Please note that currently LogSat is unsupported under this operating system.
System Requirements
Computer: PC 286, 386, 486, Pentium
Memory: 2 MB RAM
Disk Space: 3 MB
Operating Systems: Windows 3.1 & 3.11, Windows 95, Windows NT, Windows XP, Windows 2003.
3rd Party Products currently supported
Kansas City Tracker - rotor interface. LogSat can move your antennas as the satellites pass overhead using the KCT rotor interface.
The Satellite Encyclopedia (TSE) - TSE is a hypertext document built around a dictionary containing over 1700 satellites. Each satellite fact sheet gives minimum information (launch date, country of origin, official identification...) Depending on the satellite's type, data regarding its payload and functionalities is included.
Are you a hardware vendor interested in being supported by LogSat? Fee free to contact us!
Windows driver for the Kansas City Tracker (KCT) LogSat Professional v5.2 uses this shareware Windows KCT driver to talk with the Kansas City Tracker and control your rotors. Also available are detailed setup instructions on how to install the driver under Windows 95. Please note that this driver is not made by LogSat Software, and therefore we are not able to provide full technical support for it.
Notice - Invalid element values reported by LogSat Professional while updating the keps