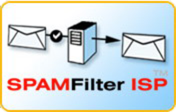 Spam Filter ISP is licensed for $600 per server.
Spam Filter Enterprise is licensed for $1200 per server.
A license is required only for the server where SpamFilter is installed. You will never have to worry about how many end users you are supporting.
     BUY NOW!
Purchase SpamFilter ISP
Purchase SpamFilter Enterprise
Software Maintenance
 - Purchasing a SPAM Filter ISP license will include 12 months of free software upgrades to any version that is released during that timeframe. Additional years of software maintenance can be purchased at any time. 
Antivirus Plugin and Virus Updates Subscription - An antivirus plug-in is available for purchase separately from SpamFilter ISP as an optional component. The antivirus plug-in is offered as a subscription service with a yearly subscription fee of $400. To purchase the antivirus plugin for an existing SpamFilter license please login the registered user area of the website.


Upgrade information - Customers with a current software maintenance are eligible to receive all software upgrades free of charge. For customers without software maintenance discounts may be available for certain upgrades. Please login to the registered user area to find out more.


Home users - If you are a home user running your own SMTP server, and receive less than 500 incoming emails per day, you may qualify for a discounted license. Please contact us at sales@LogSat.com for more info.


Return policy - LogSat Software LLC will be able to provide refunds for the purchase price of an unopened product which has been shipped on physical CDROM media. Please note that LogSat Software LLC does not provide refunds for returns of software purchased with the direct download delivery option. A free 45-day trial of SpamFilter is available for download, which will allow a thorough evaluation of SpamFilter before the purchase.