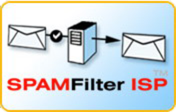 SpamFilter ISP and SpamFilter Enterprise feature the same filtering capabilities, accuracy and performance. There are however differences in how the products can be customized to handle multiple email domains, and in how the filter settings are stored.

SpamFilter Enterprise has all the features of SpamFilter ISP. In addition, SpamFilter Enterprise allows the customizations of most filtering rules independently for each email domain being managed. This allows to fine-tune filtering rules for each of the email domains being hosted. If a server running SpamFilter Enterprise is handling emails for a hospital and for a law-firm, very different filtering rules can now be applied to each of the two domains. 
SpamFilter Enterprise stores most of the filtering settings in a database. This allows companies running SpamFilter Enterprise to be able to more easily customize their installation of SpamFilter, adding functionality that may not be provided out-of-the-box. Multiple installations of SpamFilter Enterprise can all use and share the same database, allowing a centralized configuration for all your installations. Each SpamFilter Enterprise caches a copy of all database settings to a local hard drive, allowing SpamFilter to function even if the database server is offline or is not functioning. 
| | | |
| --- | --- | --- |
| | SpamFilter ISP Standard | SpamFilter Enterprise |
| SFDB - SpamFilter Distributed Blacklist |   | |
| MAPS DNS RBL Filters | | |
| SURBL Filters | | |
| SPF - Sender Policy Framework | | |
| Bayesian Statistical Filtering | | |
| Image Scanning / Filtering | | |
| Blacklist IPs | | |
| Blacklist Domains | | |
| Blacklisted FROM Emails | | |
| Blacklisted TO Emails | | |
| Blacklist by Country | | |
| Honeypot Capabilities | | |
| Attachment Blocking | | |
| Keywords Filter | | |
| Reverse DNS validation | | |
| MX Record validation | | |
| Reject if "Mail From" = "Mail To" | | |
| Reject if "From Domain" = "To Domain" | | |
|   | | |
| Whitelist Domains / IPs | | |
| Deliver specific emails without filtering | | |
| Whitelist FROM Emails | | |
| List of "Authorized TO Emails" | | |
| SMTP User Authentication with SSL support | | |
|   | | |
| Customize filter settings for each domain | | |
| Store settings in database | | |