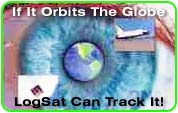 NASA, European Space Agency, NATO, U.S. Air Force, U.S. Navy air craft carriers, U.S. Navy weather ships, U.S. Coast Guard, Naval Research Lab, TRW Corporation, Allied Signal Corporation, Canadian Department of
Natural Resources, all use LogSat Elite98.
About LogSat Elite98

for Windows
LogSat Elite98 for Windows is the satellite tracking software of choice for businesses and government agencies. LogSat Elite98 options include a portable tracking station, which includes a laptop PC and a GPS.
Customization With LogSat Elite98
We offer modifications of LogSat Elite98 to suit contractors' needs and requirements. Please contact us for details and customized vendors.