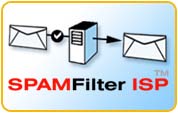 Was my email rejected?
If you are a user, and arrived here because an email you sent was rejected, please forward this information to your network administrator or Internet Service provider. Only your network administrator or Internet Service Provider will be able to solve this issue, please contact them to have the problem solved, as we (LogSat Software) will not be able to help you.

Information for administrators.
SFDB is SpamFilter's Distributed Blacklist. The SFDB lists IP addresses which have been used to send spam emails to companies using of SpamFilter ISP, an antispam software.
The SFDB list is automatically maintained and updated. If an IP address sends spam or viruses to SpamFilter users, it will be automatically added to the SFDB. If and when the IP address stops sending spam and viruses, it will be automatically removed from the SFDB within 24 hours.

<<< Check if your IP is listed in the SFDB >>>
(Please note that you will need to access this page from the IP that is blocked, or from the same class C network).
If you are an end user this test will most likely be pointless, as it will be your provider's IP address that will be blocked, not yours.